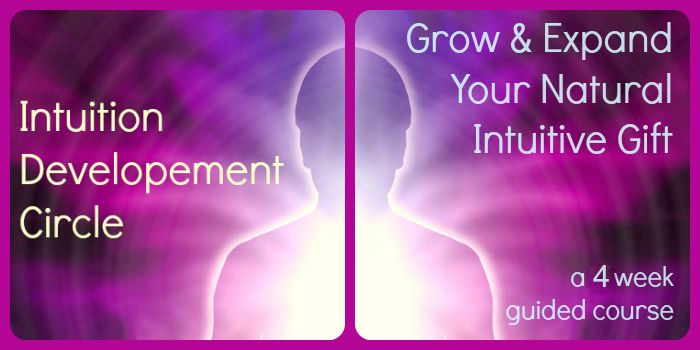 Grow and expand your intuition over the course of 4 weeks.
You already have this natural ability within you (whether you've noticed it or not). The more you tune in to your intuition and use it, the quicker and more heightened it becomes.
The Intuition Development Circle is a course made up of 4 weekly classes where you'll practice easy exercises that will expand and grow your intuition and insights. Some of these exercises will include simple meditations, guided visualizations, journaling, angel and oracle cards, crystals and gemstones and so much more. Plus you'll receive a variety of weekly home study practices for you to choose from that will heighten your abilities.
Imagine your life where you…
Make decisions quickly and confidently
Have more clarity and focus
Live with ease and in the natural flow of energy
Know what direction to move forward in
Can let go and be guided through life
Feel more aligned and balanced
Easily 'tune into' friends and family no matter where they are
– across the planet, passed away or right beside you.
At the advanced Blossom Level, you have the opportunity to work one-on-one with Lindsay Rose to fully expand your intuitive abilities. In this private session, we'll focus on clearing and releasing stuck stagnant energy so you feel lighter and brighter. Time will be spent grounding and protecting your energy field as well as expanding your 3rd eye and crown chakras so you have more clarity, focus, insight and a heightened sensitivity to intuitive messages coming through.
Class dates:  Tuesdays January 28th, February 4th, 11th, 18th, 2020
6:30 pm – 9:00 pm
714 Discovery St, Victoria
$125 or $215
SOLD OUT
Pricing Table plugin
 Want to get in on the next course in 2021? Go here.